A Professional yet Free Site Map Generator
Even though we are searing for a free site map generator, we also want to find a better one that can meet our demands. What if there is a free sitemap maker which not only can generate different types (HTML, XML, TXT and GZ) of sitemaps that are validated for major search engines (Google, Yahoo, Ask and Bing, etc.), but also has many other advanced features, such as pinging major search engines, identifying dead and broken links, no limitations on page size and numbers, and much more.
Sitemap X-the Best Free Site Map Generator
Yes, Sitemap X is such a free site map generator, which is suitable for all types of users. Just in several simple steps, you will easily finish a free sitemap generating and submitting.
1. Input your site URL in "base address" option. And then make some selectional settings such as crawling depth (how many levels you want spider to crawl), time-limit on crawling a page, max crawled page amount, and page types you want to be crawled.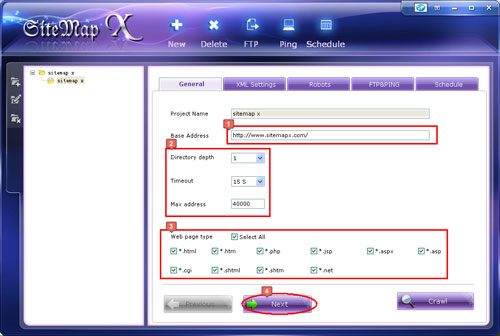 If you do not want to make any change for default settings, you can start this crawling immediately after a simple entering of site URL.

2. Under "XML Settings" part, you can choose a favorite format and style for your sitemap. And you also can make some other settings as the below image shows: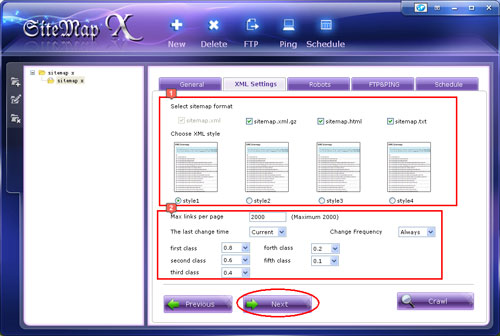 3. In the next part, "Robots" option, you can edit a robot file and choose to upload it to your server or not.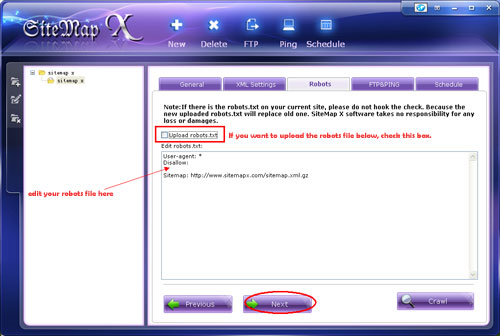 4. "FTP&PING" option is used to input server information and select search engines you want to ping. After the setting, it will upload your generated sitemap to your sever automatically, and ping selected search engines as well.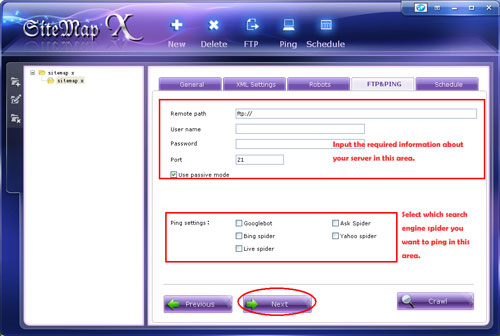 5. Next, you can fix a certain time when Sitemap X generates and submits sitemap automatically.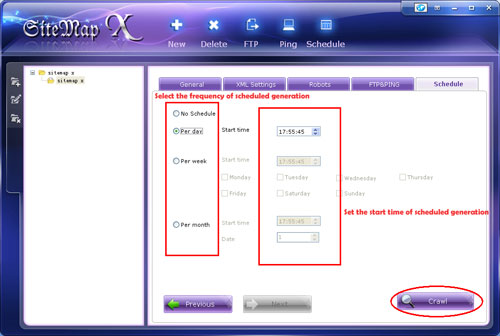 6. After making all settings, you can start the crawling immediately, and the whole process will be finished in just several seconds.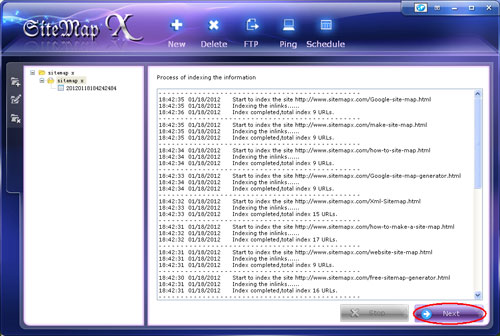 7. And then, you can choose to view it or not.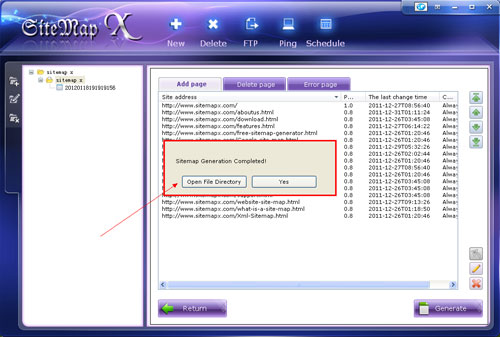 The above steps are just detailed information about how to make and upload a free sitemap with this nice tool. What's more, you also can delete or edit items in your generated list, such as changing priority, deleting useless URLs, checking dead and broken links and so on.

All in all, if you are looking for a nice free sitemap creator, Sitemap X cannot be missed by you!