The Most Effective Way to Create and Submit Google Sitemap
Sitemaps is just a map of your site which shows the website structure to get search engines crawl and index it more quickly and properly. Now we will disclose how to create and submit Google Sitemap.
How to Create Google Sitemap
Manually creating Google Sitemap not only costs you too much time and efforts, but also it's easy to make mistakes. Therefore, I recommend you to use Google sitemap generator-Sitemap X to create a sitemap which applies to the site map protocol standard.
Just put into your site base URL and choose some additional information, Sitemap X will crawl and generate Google sitemap in minutes.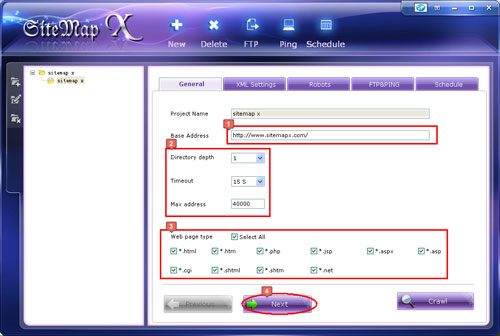 How to Submit Google Sitemap
After creating Sitemap, you need to submit Google Sitemap. However, if you want to manually fulfill it, you have to register a Google account and then submit. What's more, when you update your website, you have to submit sitemap again. This process is too time-consuming for you, don't you think so? Therefore, I recommend you to ask FREE sitemap submitter for help.
Sitemap X also performs an automatic Google sitemap submitter:
Just by a few clicks, you can submit and inform your sitemap to Google and other search engines.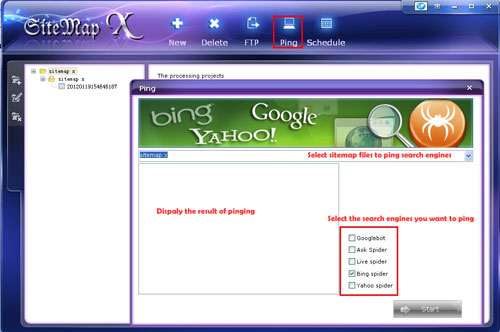 Moreover, you can use the built-in scheduler function to automatically create and submit sitemap. This can inform your updated sitemap to Google and other search engines as soon as you think. This is the best method to tell search engines about your freshest site info, thus spider will crawl, index and rank for your site in the fast speed. It is extremely helpful for your website SEO. I bet you won't want to miss it.
Other features of Sitemap X:
Generate four types of sitemaps, HTML, XML, TXT and GZ
You can edit last modified time, priority and modify frequency for each URL
Built-in Broken Link Checker to check invalid or dead links
Built-in URLs editor to add, delete or edit URLs
Want to create and submit Sitemap quickly and automatically? Download the free sitemap generator now!